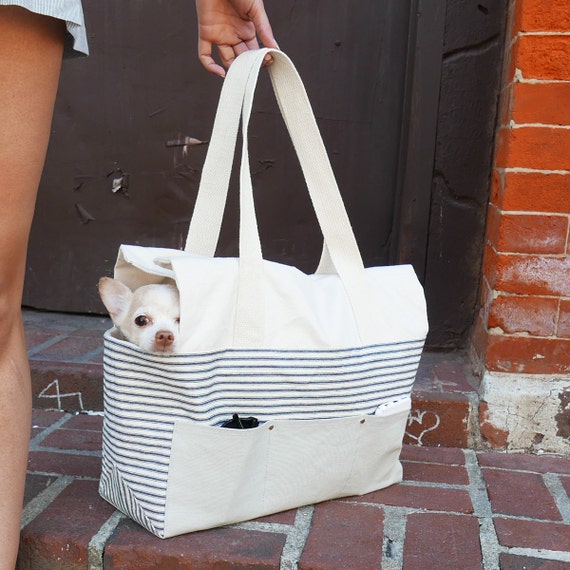 Leave your handbag at home with this new multi purpose designer Soft Dog Tote handmade in canvas and striped mattress ticking.
Features of Bag:
- Folds easily into luggage
- Zipper on top for just in case
- All natural materials, no vinyl
- Machine washable for easy care
- Sprayed with stain resistant finish
- Pockets on outside and inside of tote
- Set on the floor for a temporary pet bed
- Great for dogs with chemical sensitivities
- Works well for Senior dogs that just want a safe spot
- Made with repurposed and eco-friendly/organic materials
- Lined with organic cotton ripstop tear resistant fabric
- Includes a clip to help keep the dog from spontaneously jumping out
Also, makes a great tote for any everyday use. Slide a rolled yoga mat thought the top for a cute gym bag or a rolled straw sunbathing mat for a trip to the beach. Also, can be used as a diaper bag, give it as a baby shower gift.
We try our best to recycle all fabric scraps. Be sure to check back for matching coats and small dog toys coming soon.
Our Model, a 7 Lb Chihuahua, is 14" nose to bum and 12" tall. Bag dimensions are 15.5"L X 12.5"H and weighs less than 1 lb.